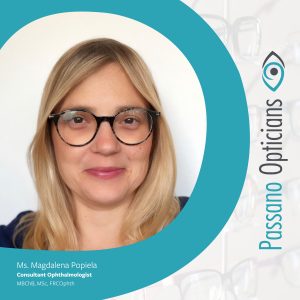 Magda is a consultant ophthalmic surgeon with a specialist interest in cornea and anterior segment. Her expertise beyond general ophthalmology includes cataract surgery in patients with corneal disease or previous refractive surgery, vision enhancing lens surgery, corneal transplants, pterygium removal and medical management of ocular surface diseases.
Magda graduated from the University of Edinburgh in 2007 and went on to complete her ophthalmic training in Wales, where she developed her subspecialty interests in cornea and anterior segment. This was further enhanced during her fellowship at the University Hospital of Southampton; a leading corneal transplant centre in the UK.
Magda is a recipient of prestigious awards for a number of her research projects. She has also completed a master's degree in cataract and refractive surgery from Ulster University for her work with femtosecond laser. She has published a number of articles as well as authored a book chapter.
Magda took a role of the consultant ophthalmologist and the clinical lead at St. Bernard's Hospital, Gibraltar in 2019. She performed the very first corneal transplant in Gibraltar and introduced corneal services to the Rock.
Currently Magda works at the University Hospital of Wales, Cardiff as a consultant in anterior segment and cornea. In September 2022 Magda has established a partnership with Passano Opticians with an aim of continuing to provide patients in Gibraltar with high quality eye care.
Book a consultation 🗓️
To book a consultation with Magda, please complete the form below detailing your eye condition: